WELCOME to the homepage from one of the best rock bands out of Kamloops, B.C...circa 1987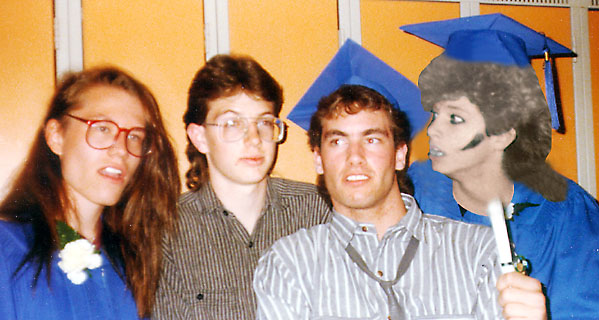 Powered by counter.bloke.com


...so sit back and enjoy the history, have a laugh and be a part of the

The Brik Shiite Shak was birthed in the year 1985 starting with lyric writing moving onto music organization when we figured out how to play the bloody things. Starting out with members Shawn the Better Singer and Ron Corpse as the originals they picked up Gerg for bass and Randy on the drums. About 1987 Shawn and Ron went to a Supertramp concert in Vancouver and when they returned they were surprised Gerg had arranged a concert to be played that spring. From this Shawn quit Ron stayed and we hired on Mumbling Dave who stayed with the Shak until the end. The first concert went off in the Canadian Legion with about 250 people who never cheered only waiting for the headliners...SNFU!!!! We played about 10 songs until Ron had to leave for a piano lesson. Shawn took the pics. See list of tunes later. One year went by of jamming and further tune writing and many, many, many various types of members until the organizers in Kamloops finally let us come back with a rebirth of the Shak. This time it was with Organized Chaos, Adversity, and Inner Anger at the IOOF Hall were the crowd was about 200 and a little more excited to see what we are unleashing onto the kids of Kamloops. This concert and the Shaks last, had players Gerg, Dave, construction worker Keith, and Wade who took main drummer T.B.'s spot because Dave broke his arm in a game of football three days prior. After this the Brik Shiite Shak was no more depite many attempts to keep it alive. In the summer of 1988 we had planed to take Dave's Fargo to L.A. and accidentally drop recorded Shak tapes in the isles at Columbia Records were it may be listened to. It never happened.


SHAK TRIVIA!!!!
1. How many members were in the Shak over the years???? Shawn, Ron, Randy, Gerg, Dave, Tyler, Joe, Xoph, Keith, Wade, T.B., Horachun, Metal Chris, Uystach Man. This all I remember, there may be more.

2. Who was the Spagettii Man????Uyustach Man because he was the only one who slammed at the first gig.

3.What Shak tune beat out a Bon Jovi song in the high school yearbook tops list???? Throb, which was Shaks first song made.

4. What great thing happened to Gerg when he was 16 due to an early sound check???? Skipped school for the check which got us suspended and after the gig our parents said we had to be away from one another for a week. Gerg went camping on the weekend instead of jamming with Shawn's older friends who had a girl named Teresa in the circle. She took Gerg onto Turtle Mountain at Paul Lake and took his virginity. Now a true rock band!!!!

5. Who is Phoner about my Boner written about, loosely???? Teresa.

6.How much did it cost to paint Gerg's bass pink???? $150.

7. Pay for playing first and second gig???? #1. was $20....#2. was $60, which Gerg had to use to pay for his underaged drunkin in public property charge at the cop shop that night when brother Shawn came, pissed on the cop's bathroom walls and got me out after about one hour of police capture.

8. Who did the Shak make fun of at the second gig???? Metalheads with the song Rock the Fire Night.

9. What high school was the Shak mainly from in Kamloops???? Westsyde.

10. What did Shak say each song was about???? Society.

11. Where did the Brik Shiite Shak jam only???? 2550 Partridge Dr., bottom southeast room.






THROB (music and lyrics by Shawn and Ron 1984ish)
TAKE A JAKE (music and lyrics by Shawn and Ron 1985)
BIMBO (music and lyrics by Shawn and Ron 1986)
TEENAGE PAPERBOY (music and lyrics by Shawn and Ron 1987)
PHONER ABOUT MY BONER (music and lyrics by Gerg 1988)
THE E STRING CHALLENGE (music by Gerg 1987)
LOUIS (music by Gerg 1987, lyrics by Benjamin and Pot 1971)
KILL THE RAT (music and lyrics by Gerg 1988)
THE CARRY ON SONG (music by all members 1987)
SPAGETTII MAN (music by Gerg and lyrics by Dave 1987)
GIMME SYPHILIS (music by Rob Duffy and lyrics by Dave 1988)
THE TENSION SONG (music and lyrics by Gerg 1987)
GIVE US BACK THE ARM (music by Gerg and Ron and lyrics by Gerg 1986)
SKATEBOARD CASUALTY (music by Ron and lyrics by Ron and Gerg 1986)
DAN DEAN ELECTRIC HASTE (music by Dan Dean and lyrics by Dave 1986)
ROCK THE FIRE NIGHT (music by Gerg and lyrics by Shawn 1988)
CHOPPED BROCKELY (music and lyrics by Gerg 1988)
THROB 2 THE FINALE (music and lyrics by Shawn and Ron 1987)




THROB..........sexual dreams at high school parties in north Kamloops locals
TAKE A JAKE..........Gerg's constant constipation problem, three weeks at a time even
BIMBO.........song for the girls with million dollar bodies and a two dollar brains
TEENAGE PAPERBOY.........Gerg's 8 year job with the Kamloops Daily Sentinel to the end at age 16 when he got jumped by five 10 year olds in February and beat up so other youngins in the 'hood could make some meager wages while battling extreme temps, 6 days a week, and having to wake up Sunday mornings on a teenage hangover of shitmixes to get the news out.
PHONER ABOUT MY BONER.........Chuck Treebarks's quest of gettin laid and his presumed maiden, Teresa.
THE E STRING CHALLENGE.........Gerg's challenge for anyone to meet or beat to play every E note on his pink bass guitar.
LOUIS.........great old lyrics from the 1970s about a guy named Louise who tries to put out the sun with his leaky water gun....he'll never do it Louise.
KILL THE RAT........Kill the rat, drowned him out to sea, where will he be.
THE CARRY ON SONG........instrumental mainly except the odd dedication to various things in the life of the BRIKSHIITESHAK.
SPAGETTII MAN.........about Dave not brushin his teeth, Uyustach's dedication to the Shak etc
GIMME SYPHILIS.........the ding a ling of a man who goes crazy
THE TENSION SONG.........dubbed the fastest song in the world, its so fast when the chorus comes you can't here it the musicians are so wound up on whatever that they are playing his instruemennt so quickly only ticks from the guitars and tings from the cymbals and whines from Dave are heard. Also about the thin cat Lemmy and his animal friends.
GIVE US BACK THE ARM........about takin back the space shuttle arm which was a Canadian creation and finding a use for it on home soil for anything else.
SKATEBOARD CASUALTY........about skateboarders in Kamloops who are probably the most hated type of person, well especially in the mid 80s. His death is in a car grill on Columbia Street
DAN DEAN ELECTRIC HASTE.........about a tape/book bass guitar educational step by step Gerg used to get going and Dave's eagerness for him to stop using it to instead go out and get wasted on the streets of Westsyde.
ROCK THE FIRE NIGHT........an instant classic!!!! Shak's personal mock of the music and lyrics of the headbangers of the age with all the cliches included. All members change instruments to pull this great hit song off, one of the best from the BRIKSHIITE SHAK!!!!
CHOPPED BROCKELY........mans personal journey leaving a swampy bayou in the time of deforestation and what he sees. THROB 2 THE FINALE........same as first but with a long funk section and the nameing of the band and band members, finally ending with a long jam and thrash out to whatever feedback we can get at the time.